Bio
From New York City's hottest comedy clubs to Chicago and the entire California coastline from San Francisco to San Diego – McKnight's extensive list of credits include, Martin Lawrence Presents 1st Amendment, Comic View, and the Tom Joyner Morning Show. She has hit the airwaves as a guest-host on LA's Power 106 with Big Boy, and Lee Bailey's Radio Scope/EUR Web.

Annie recently landed a voice-over role on Conan O'Brien, and is presently airing in the 2014 Super Bowl Sprint Framily commercial. Annie has also Guest Starred on Love that Girl, Soul Man with Cedric the Entertainer, Deon Cole's Black Box and Next Week on Looney Street. She's co-starred in Friends with Benefits, latest movie The Lineage, The Soloist starring Jamie Foxx and Robert Downey, Jr. Annie is on a roll also on the big screen in Cornered starring Steven Guttenberg and Crazy On The Outside starring Tim Allen. No stranger to the small screen, Annie has appeared on Heroes, Brothers & Sisters, The Winner, and Nickelodeon's iCarly. She also performed in Eve Ensler's The Vagina Monologues directed by Penny Marshall and worked on Parker Posey's pilot The Return of Jezebel James. Annie also appeared on the Tonight Show.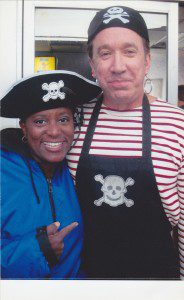 The unforgettable Annie McKnight is so funny she took home $10,000.00 dollars as the first place winner on America's Funniest People. This talented actress has among her film credits appearances in Crimes of the Heart, Two Degrees, and Hair Show. She earned a Bachelor of Arts degree in Theatre from Columbia College. One of her special interests involves using her animated skills and various vocal abilities to teach Autistic as well as developmentally delayed children to enhance their cognitive and communication skills. "Annie McKnight is an exciting new talent with the rare ability to make you laugh or cry," says Actor-Director-Producer Bill Duke.